Due to increased business demand, we are hiring all levels of service technicians.  
Have Your Vehicle's Maintenance Or Repairs Performed At Don's Ford's Service Center
Part of car ownership is keeping up with its routine maintenance and unfortunate repairs. In order to accomplish that goal, we strongly suggest finding a place that won't just take care of your repairs, but will also treat your Ford car, truck, SUV, or van like one of their own. That place is Don's Ford's Service Center in Utica, NY.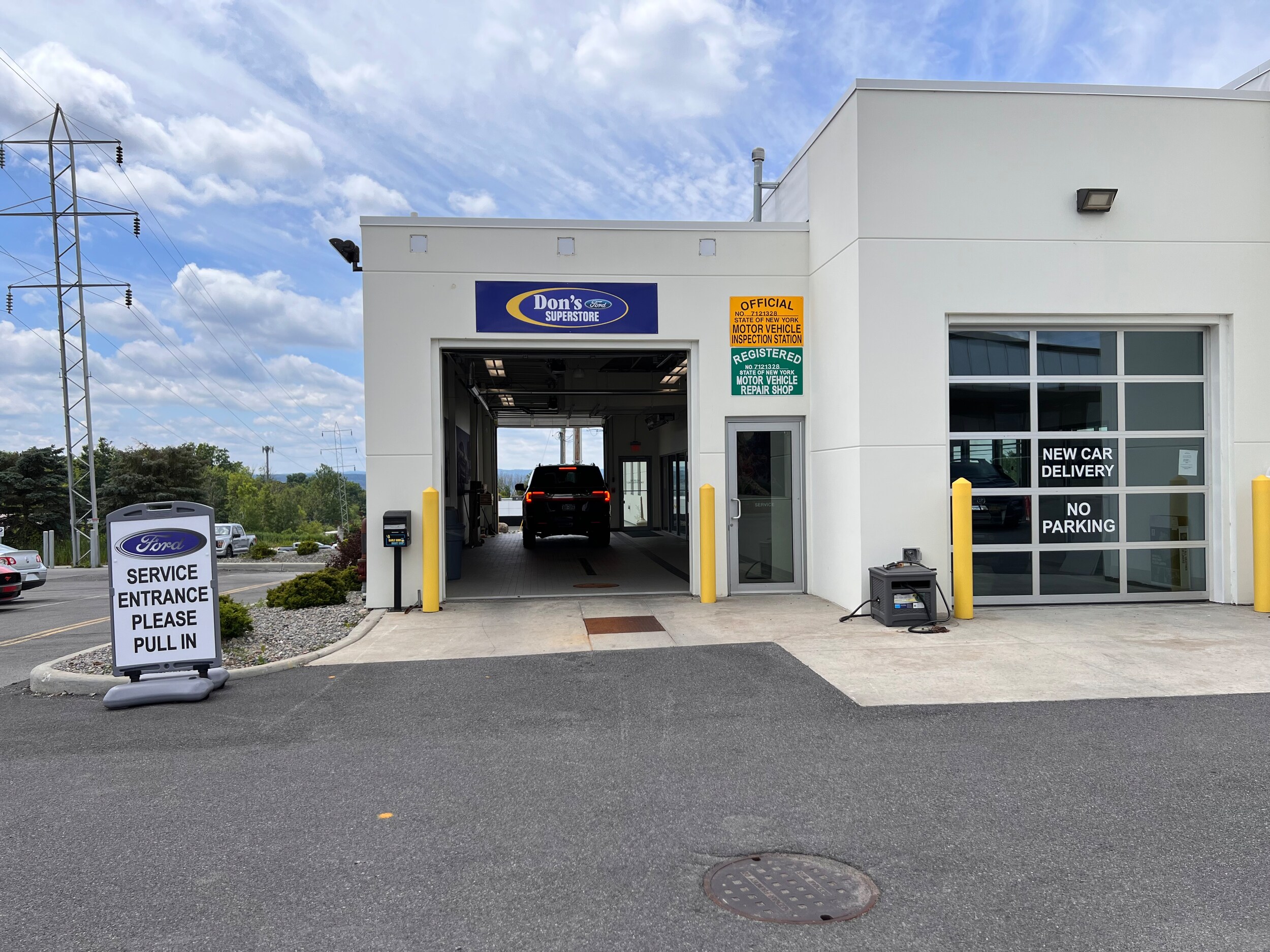 We're Ready For Any Type Of Repair Need
Whether you're looking to have routine maintenance done, like an oil change or brake inspection, or you have been in an accident and require an emergency repair, our team of technicians are here to help get you and your vehicle safely back on the road to Rome, Utica, Herkimer, Oneida, Yorkville, or beyond. Our staff are certified in everything Ford brand based, have been working in their area of expertise for many combined years, and know how to make your vehicle look and act like new in no time.
We Use Only The Highest Quality Of Parts And Accessories
In order to keep your vehicle 100-percent Ford, we always use genuine OEM Ford parts and accessories. These parts are bought directly from the same manufacture that built your Ford car, truck, or SUV in the first place and will match perfectly within your vehicle. If you'd like to do your own service, you can also order these parts for your next DIY project.
Dons Ford Express Service
When it's time to bring your vehicle to our service center, you can have us work on your vehicle in one of two ways:
Express Service - Our Express Service is perfect for those fast routine maintenance type issues. By Appointment only and can be a quick option if you have the time to wait in our comfortable lounge while your vehicle receives such services as alignments, battery checks, brake inspections, oil changes, wiper blade replacements, and much more.
Service Appointment - Whether you have regular maintenance issues or a larger repair planned for your vehicle, you can schedule an auto service appointment using our online scheduling tool. Fill out this form at any time and find the appointment that will work best for your busy schedule.
We Offer Competitive Pricing, Service Specials, And Many Other Ways You Can Save Money On The Service You Need
Most people have this idea that bringing your vehicle to a dealership for service will be more expensive than taking it to a non-dealership garage. That isn't the case here at Don's Ford. Not only do we offer competitive pricing on the services you need, but we may also have a service special that will save you even more money. We also offer a wide array of Ford Protect - Extended Service Plans that are designed to take care of certain car services without surprising you with a large bill.
Utica NY Car Dealers
If you're interested in seeing what else our Don's Ford Service Center has to offer, feel free to stop by and talk to one of our technicians. You can also contact our Ford dealer serving Herkimer, Rome, Utica, and all surrounding areas with your questions! We would love to help you the get the vehicle service you need, can go over the final price, including any service special that's available, and look forward to getting you safely back home in your well-run vehicle today!
Request an appointment below, or give us a call (877) 698-0071
Your privacy is important to us.
Our Dealership takes your privacy seriously and does not rent or sell your personal information to third parties without your consent. Read our privacy policy.
Service Hours
Monday

7:30am-6pm

Tuesday

7:30am-6pm

Wednesday

7:30am-6pm

Thursday

7:30am-6pm

Friday

7:30am-6pm

Saturday

8am-3:30pm

Sunday

Closed