The 2022 Ford Mustang is a car that delivers on its legend and potential. Now more highly performing, capable, and passionate than ever, this winsome classic carries the Ford Mustang tradition forward into the 21st century.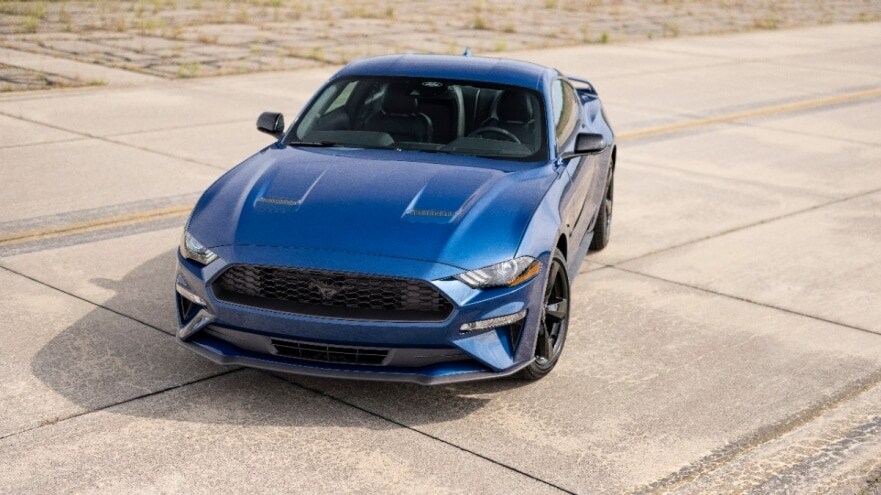 The Ford Mustang's Legacy
If you're visiting a Ford dealership and encounter one of these high-performance beasts, you'll know you've had a special experience.
With a presence like no other and a legacy that's stirred the imagination for decades, this is one car that makes an impression. Each curve and angle evoke the history and performance that lies underneath its skin.
2022 Ford Mustang Performance
The performance churned out by the 2022 Ford Mustang is phenomenal. You can choose between the EcoBoostâ V8 and Supercharged V8 engine options that will produce up to 760 horsepower and 625 lb-ft of torque.
This gives you power and acceleration unlike pretty much any other road-going vehicle. Making a trip in the driver's seat of the Ford Mustang is an experience unlike any other.
But this car isn't a loose cannon. Finely tuned transmission and independent suspension mean acceleration is smooth and grip is never in short supply. There's plenty of balance and poise to go with that raw power.
Don't forget about Ford lease deals if you're considering purchasing a Ford such as the 2022 Ford Mustang. This is a great alternative to buying if you want lower monthly payments and don't want to worry about warranties or repair costs.
2022 Ford Mustang Technology
The 2022 Ford Mustang comes outfitted with the latest safety and infotainment technology, to ensure you won't have to compromise comfort or safety in the name of performance.
Ford Co-Pilot360ä technology with a BLISâ Blind Spot Information System, Lane Keeping System, and Rear View Camera gives you confidence when driving.
Then there's the top-notch Ford SYNCâ 3 navigation and infotainment system that makes it easy to customize the cabin experience and make every journey a joy.
If you're interested in buying a Ford and are looking for car dealerships Utica, NY, look no further than Don's Ford. We've got the inventory, expertise, and financing options you need for a great customer experience.
Visit Your Local Ford Dealership
If you're in the Utica, NY area, be sure to visit Don's Ford to get a chance to look at the finest that Ford has to offer, such as the 2022 Ford Mustang. We're prepared to give you only the best to make sure you're never disappointed with a visit with us.